Founded in 1914, Indiana University School of Nursing has grown into one of the largest nursing schools in the country. Fort Wayne is home to the newest of our three core campuses. We share a curriculum and a governance structure. Dean Robin Newhouse is the dean for the core and provides oversight for all three campuses. She works with an executive team to guide the three campus locations of the IU School of Nursing.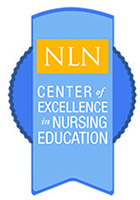 IU School of Nursing has been recognized by the National League for Nursing (NLN) as a Center of Excellence in Nursing Education in two categories—Advancing the Science of Nursing Education (2021-2026) and Promoting the Pedagogical Expertise of Faculty (2017-2022).
The Fort Wayne campus offers a Bachelor of Science in Nursing (BSN) with three tracks to choose from: Traditional and the Second Degree Accelerated, launched in Spring 2022. Practicing RNs can enroll through the Fort Wayne campus to earn their BSN through the statewide RN to BSN online BSN track.