See how our past informs our future and helps us build each other up to new heights. 
Choose a category or decade to get started
1914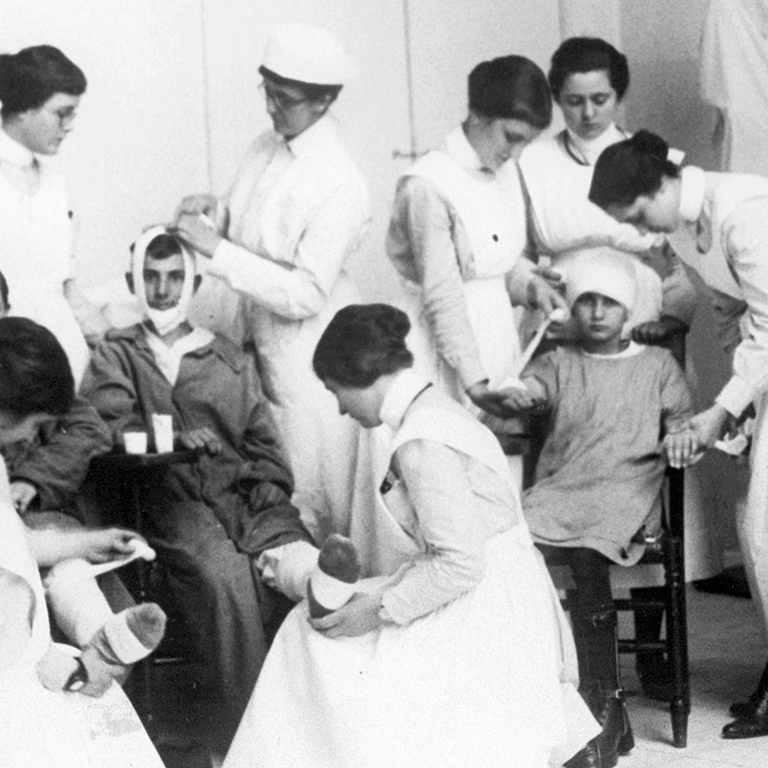 Indiana University Training School for Nurses
In 1914, the Indiana University Medical School was beginning to emerge. Robert W. Long Hospital finished construction four days before the first students arrived on campus. In June, the Indiana University Training School for Nurses opened its doors. Young women flocked to the school to start their nursing training under Alice Fitzgerald, the first director of the training school. She worked to properly equip the hospital with a small staff of one instructor, two head nurses, a night supervisor, an operating room supervisor, and seven staff nurses. Fitzgerald left in 1915 to assist in Europe during World War I. Ethel P. Clarke took the helm, serving as director with responsibility for both the hospital nursing service and the education of the students.
1914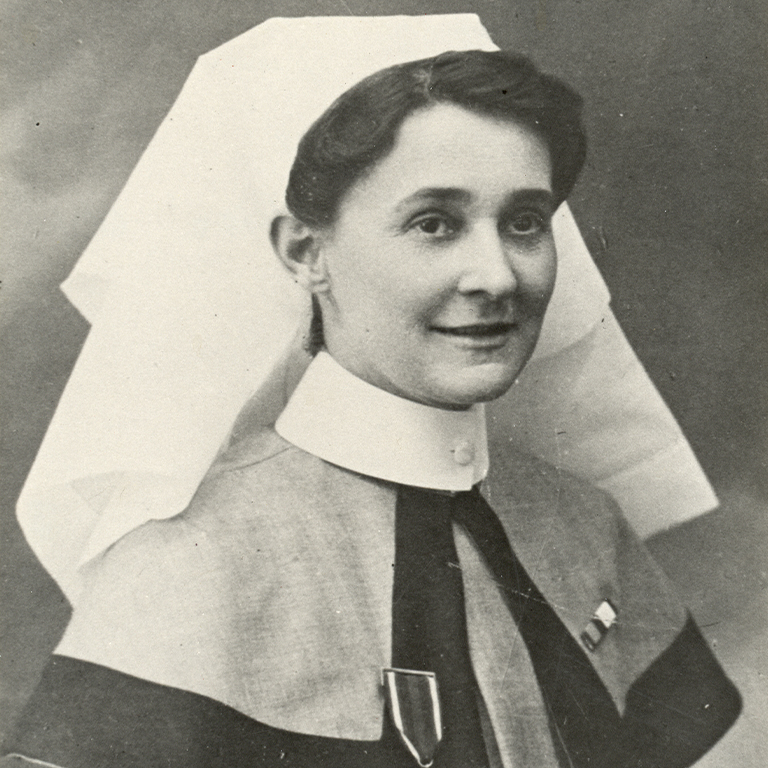 First Director Named
Alice Fitzgerald was a graduate of Johns Hopkins Hospital Training School for Nurses and Teachers College at Columbia University. Fitzgerald had been a nurse leader at two East Coast hospitals before arriving in Indianapolis in 1913. After establishing the school, Fitzgerald departed Indiana for an esteemed career in the United States and Europe during WWI and later in Asia for the Rockefeller Foundation.
1914
Long Hospital Opens
On June 15, 1915, the hospital opened to patients with 106 available beds. Eighteen of those were private rooms. The first patient and first student arrived on June 19th.
1915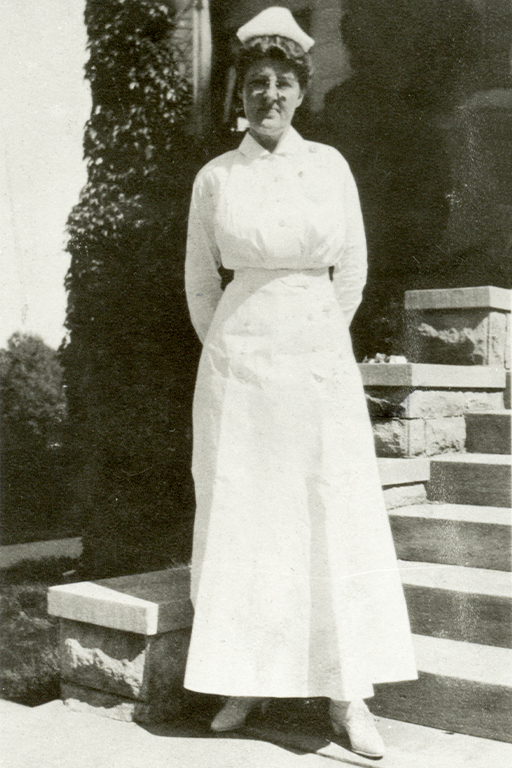 Second director, Ethel P. Clarke, named
Ethel P. Clarke served until 1931. (She was born in 1875 in England and died May 30, 1970 in Connecticut.) According to the Shore Line Times, June 4, 1970: She died at 95. Born October 3, 1875, in Lynton, Devon County England, she was the daughter of the late Frederick Tancock and Alice Snell Palmer. Mrs. Clarke graduated from the University of Maryland training school for nurses in 1906. She was superintendent of DeSoto Sanitarium, Jacksonville, FL, until 1911, when she returned to the University Hospital at the University of Maryland and became superintendent of nurses. In 1914 she entered Teacher's College at Columbia University. In 1915, Mrs. Clarke became superintendent of nurses at the University of Indiana Medical School [as written] Indianapolis, Indiana. Mrs. Clarke organized the school of nursing at Indiana University. She moved to Bridgeport in 1933 where she was superintendent of nurses at Bridgeport Hospital. She held this position until she retired in 1941. Mrs. Clarke was a life member of the Nurses Alumnae Association of the University of Maryland and a member of Holy Advent, Episcopal Church. She was predeceased by a brother, F. Flynn Palmer, and two sisters, Mrs. Maude Palmer Wilke and Miss Vera Palmer. She is survived by a nephew John F. Wilke of Cedar Vale, Kansas; and two great nephews, Lynne Wilke of Peru, New York, and Douglas Wilke of East Rockaway, New York.
1917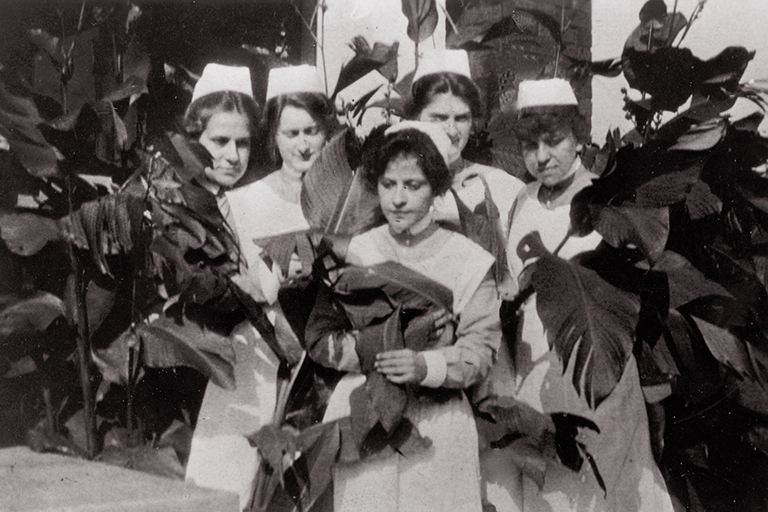 First graduating class
The first five students graduated on June 17, 1917. They were (from left) Mary Ruth Groenier, Bertha Ellen Rizer, Josephia Amada Grima, Lucy Ellen Gilley, and Marie Myrle Bratton.
1922

Alpha Chapter Sigma Theta Tau
In 1922, six IU students established the Alpha chapter of Sigma Theta Tau (Sigma) nursing honor society in order to advance the status of nursing as a profession, recognize scholarship, represent the best in nursing, encourage future leaders and provide a social forum. Indiana University School of Nursing is honored to have such close ties with Sigma, one of the most well-known and highly respected organizations in the nursing profession. The founders chose the name Sigma Theta Tau from the Greek words storgé, tharsos, and timé, meaning love, courage, and honor. The vision of the organization is to be the global organization of choice for nursing. Membership is by invitation to baccalaureate and graduate nursing students who demonstrate excellence in scholarship and to nursing leaders exhibiting exceptional achievements in the field. Sigma was incorporated in 1985 as Sigma Theta Tau International Inc. Today, the organization operates approximately 520 chapters at more than 700 institutions in 90 countries and has more than 135,000 active members. Products and services offered to members include education and research conferences; online continuing education; $200,000 annually in nursing research grants, scholarships and monetary awards; career development; leadership programs and the Virginia Henderson Global Nursing e-Repository, an online digital library.
1928
The Ball brothers of Muncie, Indiana, donated $500,000 to construct Ball Residence in 1928, which housed 165 nursing students and provided classrooms, laboratories, instructors' offices, and an indoor gym.
1931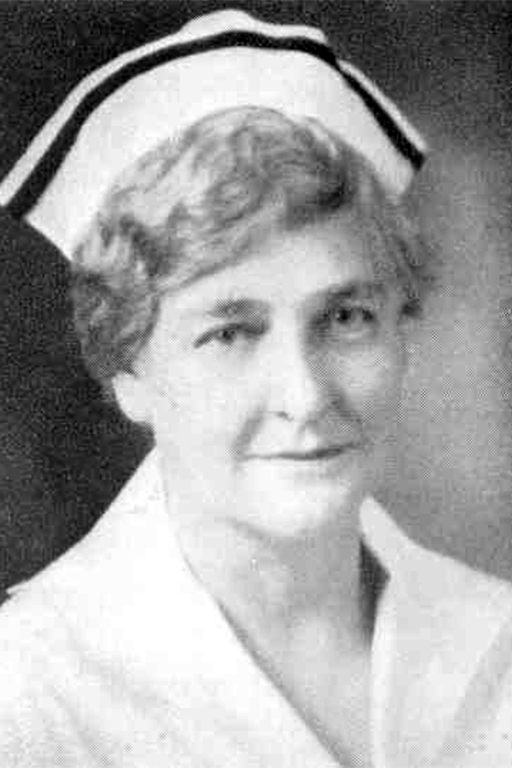 Hull named director
Josephine Hull served as director until 1933. Under her leadership, chemistry and massage courses were added to the curriculum.
1931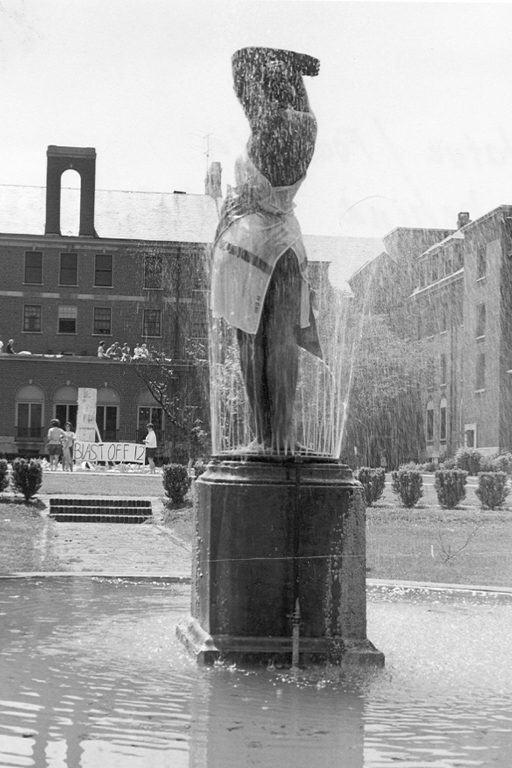 Eve
Commissioned by the IU Alumni Nurses Association in 1931, artist Robert Davidson designed the sculpture "Eve" that sits in Ball Nurses' Sunken Gardens. Students nicknamed her "Flo" in honor of Florence Nightingale and would dress her in nurses' uniforms, undergarments, balloons, and towels during graduation time.
1932
Curricula established for Bachelor of Science in Nursing on Bloomington campus for public health nursing, administration, and supervision of nursing service. Teaching in schools of nursing offered for registered nurses in Bloomington.
1933
This tradition began with 19 Students on September 7 of 1933. The tradition continued until 1974 when caps were issued on admission as part of the uniform.
1933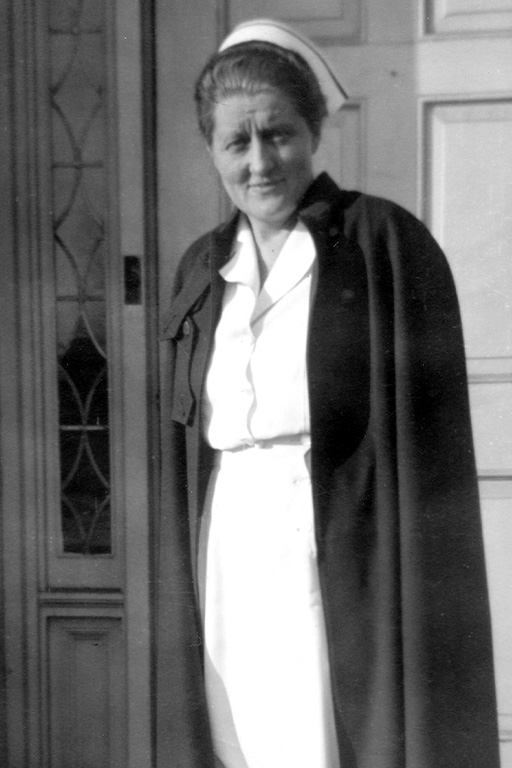 Hoeflin named director
Cordelia Hoeflin, a Canadian citizen, served as director until 1946. These were the war years (WWII) and saw the formation of the Cadet Corps. The first capping ceremony took place under Hoeflin's tenure.
1936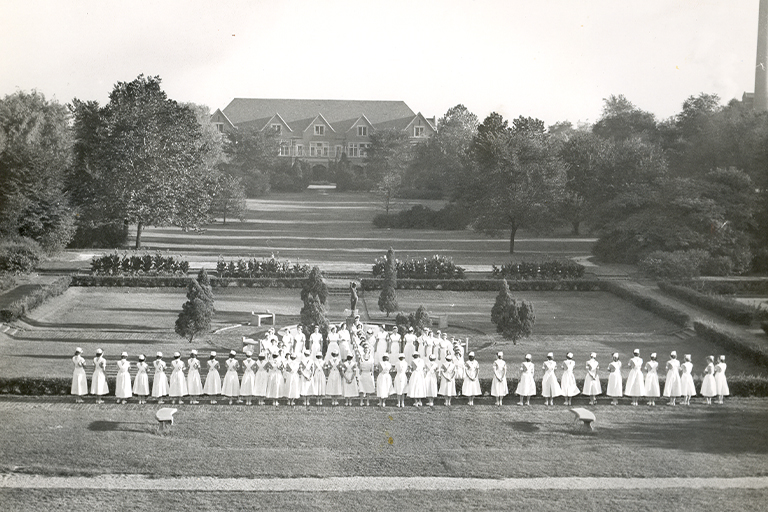 Ball Nurses' Sunken Gardens
Ball Nurses' Sunken Garden is an IUPUI campus treasure and an important part of the history of the Indiana University School of Nursing. Built in the early 1930s by Frederick Law Olmsted, the father of American landscape architecture and designer of New York City's Central Park, the garden is listed on the National Register of Historic Places. The garden is a therapeutic greenspace, among the largest and first of its kind. It is a predecessor to the many therapeutic gardens throughout the United States, offering respite and renewal to nurses, students, patients, and their families. Central to the garden is the reinstallation of Eve in the fountain, a statue commissioned by the IU Alumni Nurses Association in 1931. Eve was sculpted by Robert Davidson, a former Herron School of Art and Design student. Eve appeared at the Indiana building at the 1933 Chicago World's Fair, the Hoosier Salon in Chicago, and the Herron School of Art and Design before being installed in the fountain. The sculpture was later nicknamed "Flo" for Florence Nightingale by IU School of Nursing students and became an integral part of the nursing students' lives.
1936
In 1936, Sigma Theta Tau funded its first recorded nursing research grant - $600 was awarded to Alice Crist Malone of Ohio State University to measure achievement in nursing based on new curriculum objectives.
1943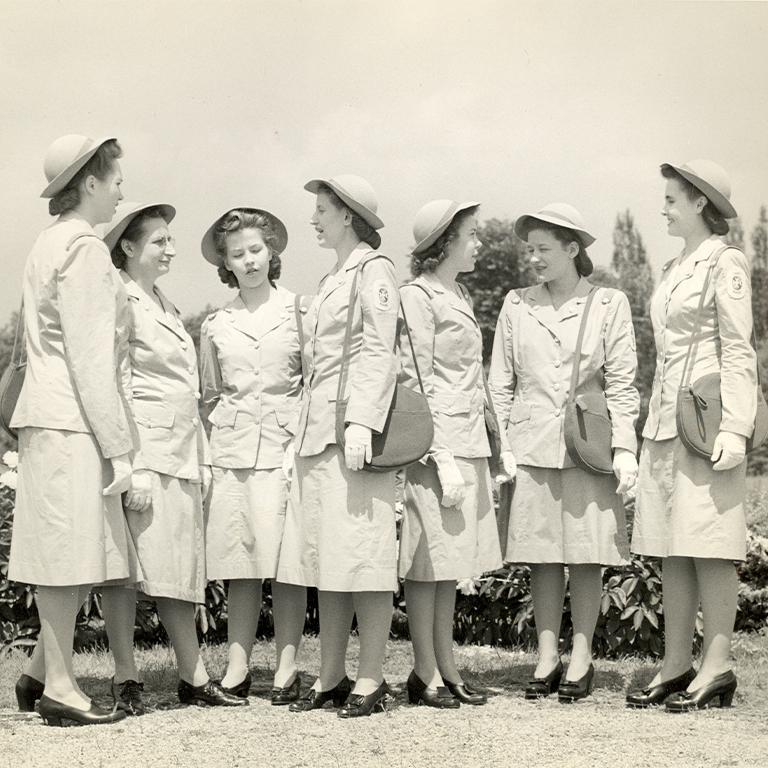 Cadet Corps formed
The Cadet nursing corps was formed on July 1, 1943, and ended on October 15, 1945, as WWII ended in September of 1945 with Germany's surrender. The nurses pictured here are in summer uniforms.
1944
Division of Nursing Education established within School of Education with preparation for teachers of science, nursing arts, medical-surgical, maternity, and pediatric nursing
1946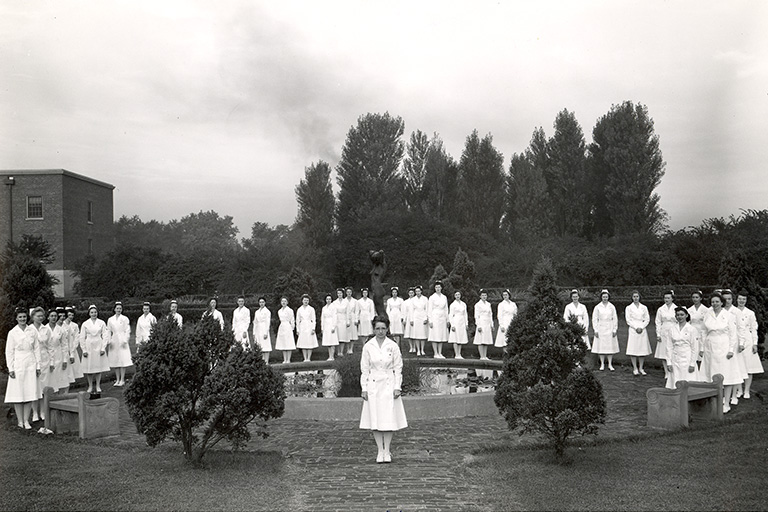 1946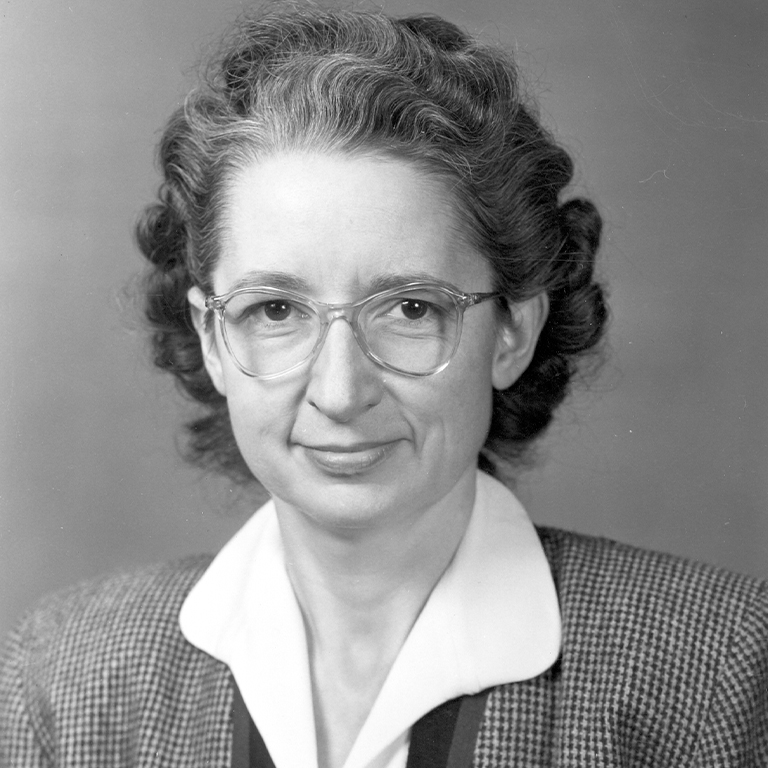 Peacock named director
Mary Peacock served until 1948.
1946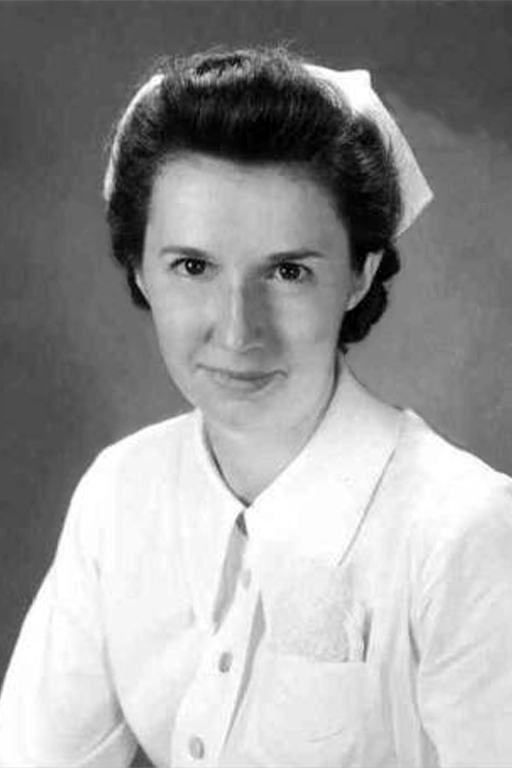 Webster named director
Jean Coffey Webster served until 1954.
1950
Bachelor's degrees were first awarded in 1950.
1953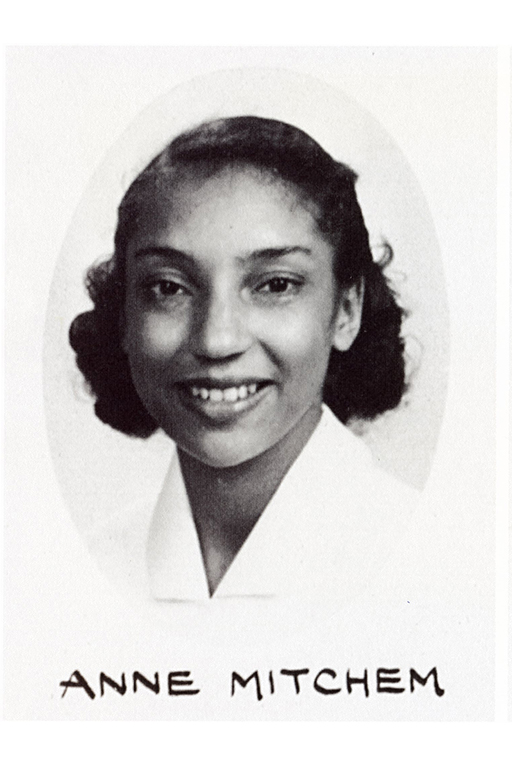 First African-American student
The first African-American student to graduate was Ann Mitchem-Davis in 1953. She went on to serve as a school nurse for the Marion County Department of Health and Hospitals and became the assistant dean of Howard University's College of Nursing.
1954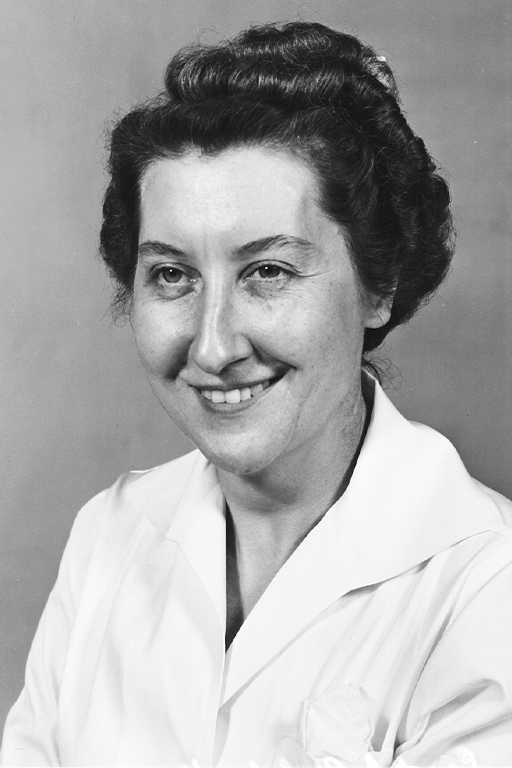 Halstead named director
Crystal Halstead served until 1956.
1956
In 1956, the training school was recognized for its growth and maturation and was renamed the Indiana University School of Nursing.
1957

First dean named
After a reevaluation of the school's curriculum, practices and administration, Emily Holmquist was named the first dean in August 1957 in order to lead the school during its important revolutionary years. She served until 1973.
1957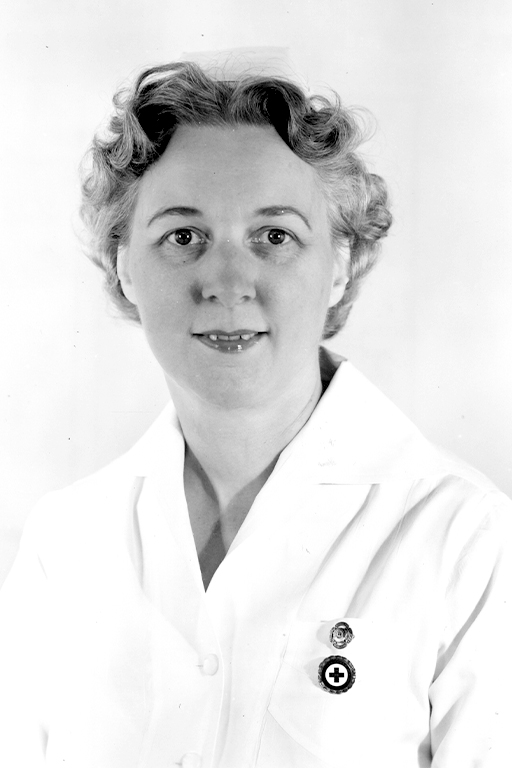 Akers named director
Martha Akers served until 1957
1958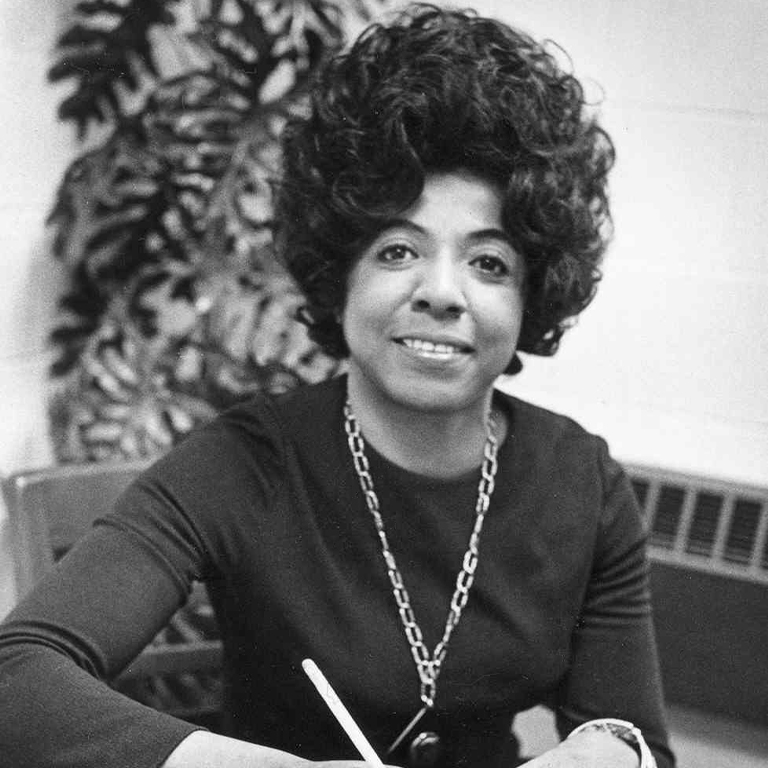 First African-American faculty member
Dr. Lauranne Sams helped to build the foundation of IUPUI's academic excellence. She joined the Maternal Nursing faculty in 1958 as the first African-American faculty member. For 16 years she served as a leader for both the School of Nursing and the broader IUPUI community. Dr. Sams was a leader in curriculum development and program evaluation, contributing to the excellence of the school as it transformed into what is now known and recognized as a national leader in education, practice, service, and research. She served on two committees for IUPUI - the Committee for Metropolitan Affairs and the Science and Humanities Programs for Equal Opportunity. She was actively involved in the recruitment and retention of minority students, including recruitment for the School of Medicine. In 1971 Dr. Sams was appointed by Governor Bowen to the Indiana State Board of Nurse Registration and Nurse Education. She became dean of Tuskegee Institute of Nursing in 1974. The National Black Nurses Association was organized under her leadership in 1971.
1965
All nursing programs organized into one administrative unit to form the School of Nursing, the 10th school of Indiana University. School of Nursing becomes autonomous; separates completely from the School of Medicine.
1970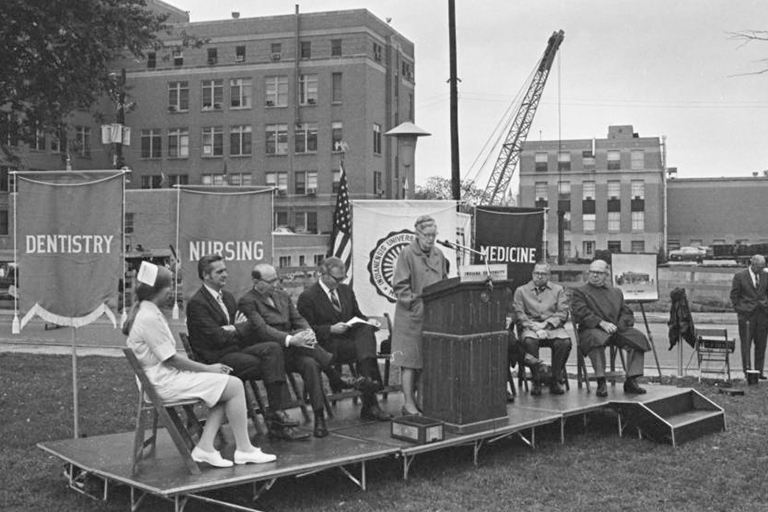 Groundbreaking ceremony for new building
Dean Emily Holmquist oversaw the building's fundraising and construction efforts beginning in the mid-1960s. The $7 million, almost 40,000 square foot building reflected the vast growth in scope, size, and diversity of programs offered at the School of Nursing through the 1970s and 1980s.
1972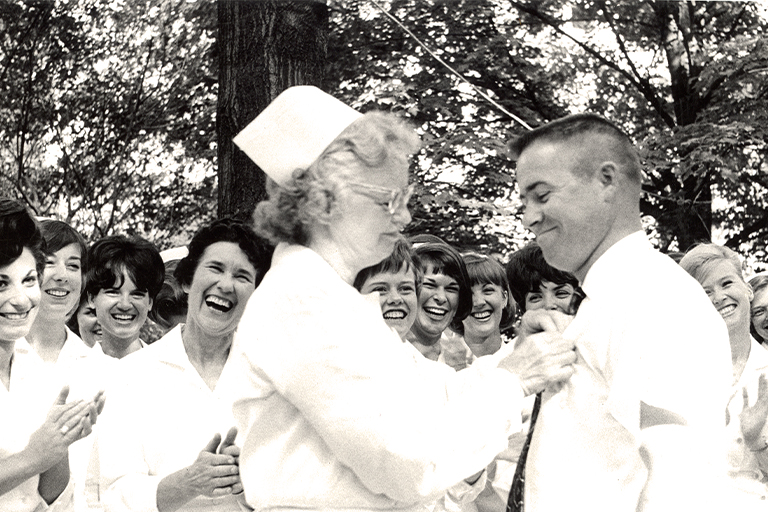 First male student
John Foster was the first male nurse to graduate from the school in 1967.
1972
School was formally recognized as Indiana University's tenth school in 1962.
1973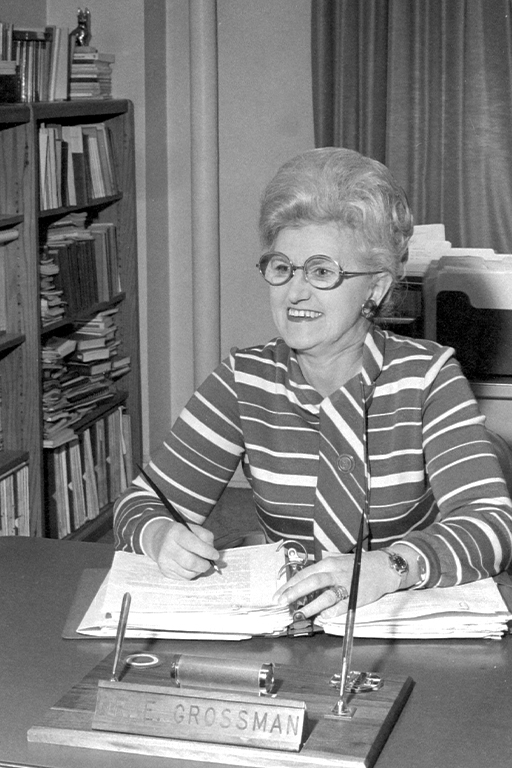 Second dean named
Elizabeth Grossman, PhD, RN, led the School of Nursing as its dean for fifteen years. As dean, Grossman created the School of Nursing's first doctoral program and developed the first nurse specialist program in Indiana. She also pioneered distance education for the school's master's degree program and expanded the nursing school's courses to all eight Indiana University campuses. Grossman was instrumental in bringing the headquarters of Sigma Theta Tau nursing honorary society to IUPUI. As a nurse, Grossman specialized in maternity nursing and was widely regarded for her innovative ideas in maternity nursing. Grossman pioneered the idea of bringing fathers into the delivery room. She founded the Maternity Family League of Indiana with her nursing colleagues. Grossman served on the boards of many local organizations and was an active community volunteer. In 2000, she received a Sagamore of the Wabash award. She died September 24, 2007.
1974
First efforts toward establishing a system-wide School
1974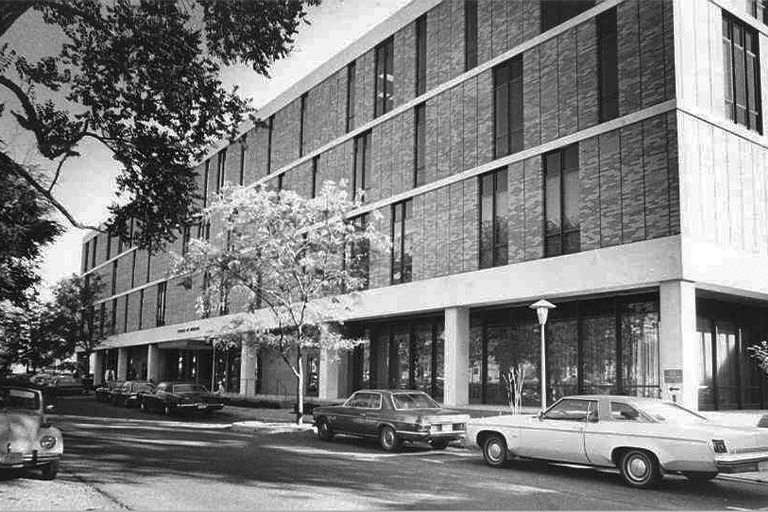 IUPUI nursing building dedicated
School of Nursing building dedicated at IUPUI May 4, 1974. Image is from 1976.
1974
Master's degrees began being offered. After the current building for the school was dedicated in May 1974, the Doctor of Nursing Science (DNS) program was approved in 1976 with the first degrees awarded in 1981. Distance education courses became available in 1985. The Indiana Commission for Higher Education approved the Doctor of Nursing Practice (DNP) program in December 2009.
1976
The doctoral program (doctor of nursing science or DNS) was approved by the IU Board of Trustees in 1976 and the first degrees were awarded in 1981. Continuing education program in nursing is accredited by the American Nursing Association.
1977
Established as a site for the Robert Wood Johnson Fellowship Program. One of four sites nationally.
1979
System-wide program of nursing is developed and expanded.
1979
Baccalaureate Program extended to IU Southeast, IU South Bend, and IU Northwest
1983
Baccalaureate Program extended to IU Kokomo
1984
Baccalaureate Program extended to IU East
1985
Distance education courses become available
1988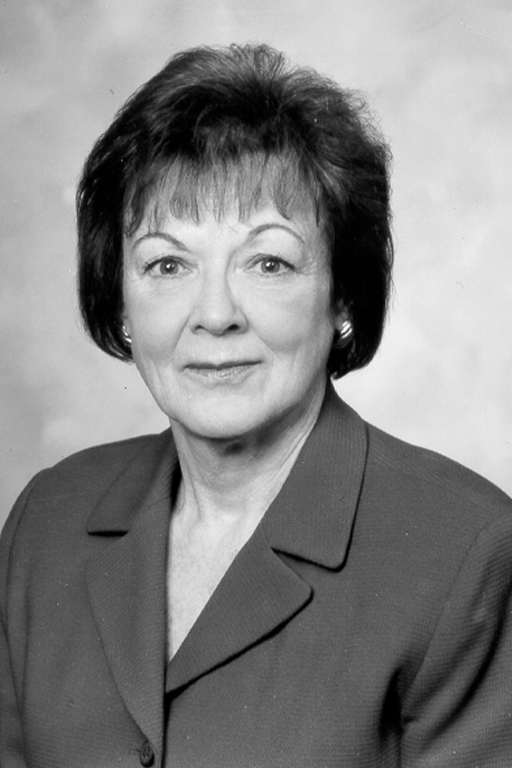 Third dean named
Constance M. Baker served until end of 1990
1990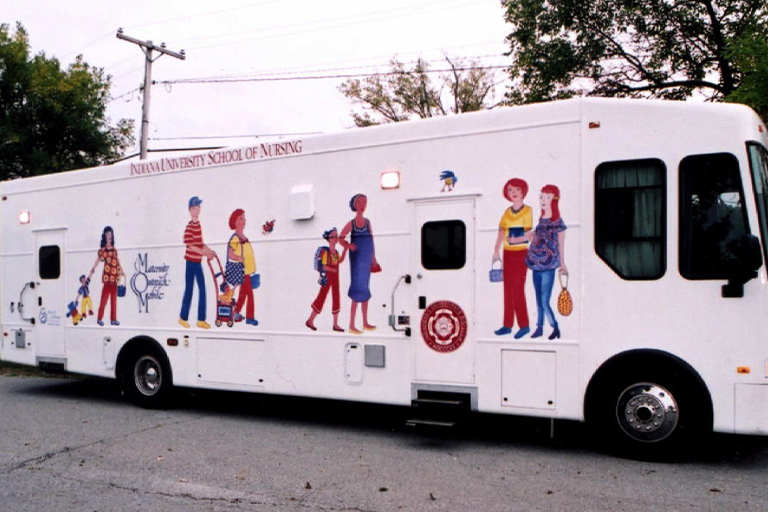 MOM Mobile
In 1990, the MOM-mobile, directed by Joanne Martin, began providing state-of-the-art ultrasound examinations for underserved pregnant women who previously only had Wishard Memorial Hospital (now Eskenazi Health) for this service.
1990
Institute of Action Research for Community Health established
1991
Designation of Institute of Action Research for Community Health as a World Health Organization Collaborating for Healthy Cities
1991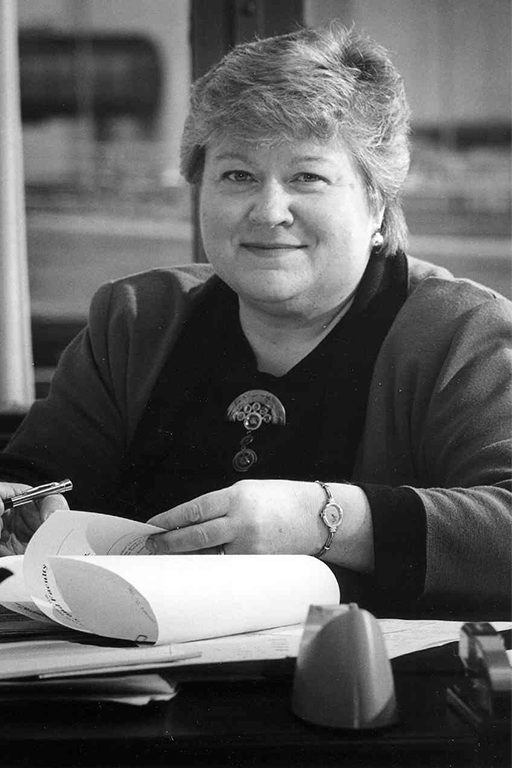 Fourth dean named
Angela McBride served until 2003
1991
Establishment of Mary Margaret Walther Program in Oncology Care Research
1995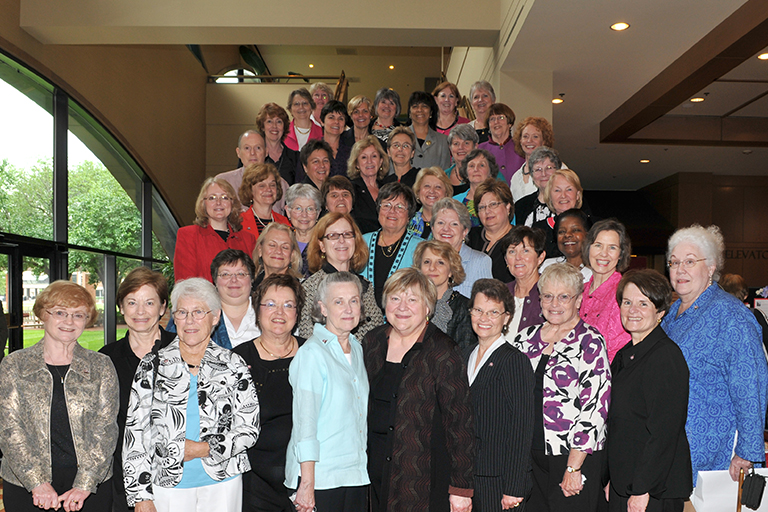 DNS to PhD
Transition from DNS to PhD degree program approved. An event was held in 2010 to honor those graduates.
1996
First class of PhD in Nursing Science students admitted
2004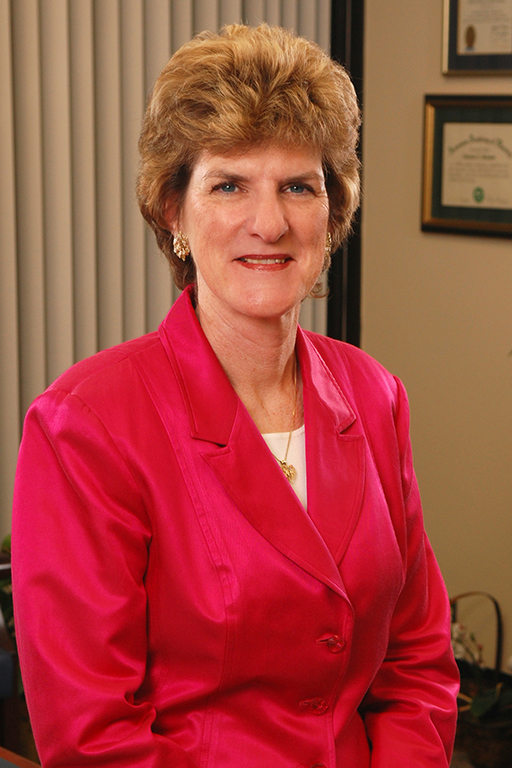 Fifth dean named
Marion Broome served until June of 2014
2006
Awarded designation as a Center of Excellence by the National League for Nursing
2008
Designation of IUSON as a "system school" ended June 30, 2008
2008
Designation of IUSON as a "Core Campus School"-Bloomington, Columbus, Indianapolis
2009
95th anniversary of nursing at Indiana University
2009
Doctor of Nursing Practice (DNP) approved by the Indiana Commission for Higher Education
2010
RN to BSN Degree Completion Program begins in coordination with the state-wide consortium of IU system Schools of Nursing
2012
Re-designation as a National League for Nursing Center of Excellence in Nursing Education to Promote the Pedagogical Expertise of Faculty, 2012-2017
2012
Designation as a National League for Nursing Center of Excellence in Nursing Education to Advance the Science of Nursing Education, 2012-2016
2014
100th Anniversary of nursing at Indiana University
2015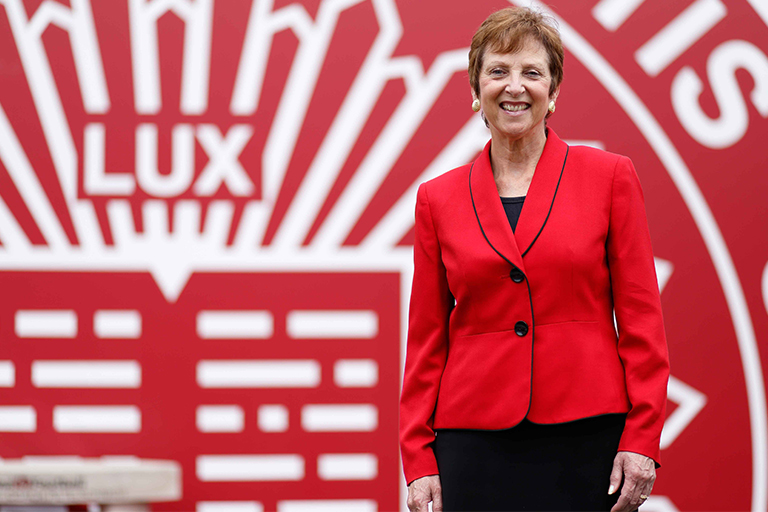 Sixth dean named
Robin Newhouse
2016
Re-designation as a National League for Nursing Center of Excellence in Nursing Education to advance the Science of Nursing Education, 2016-2021.
2016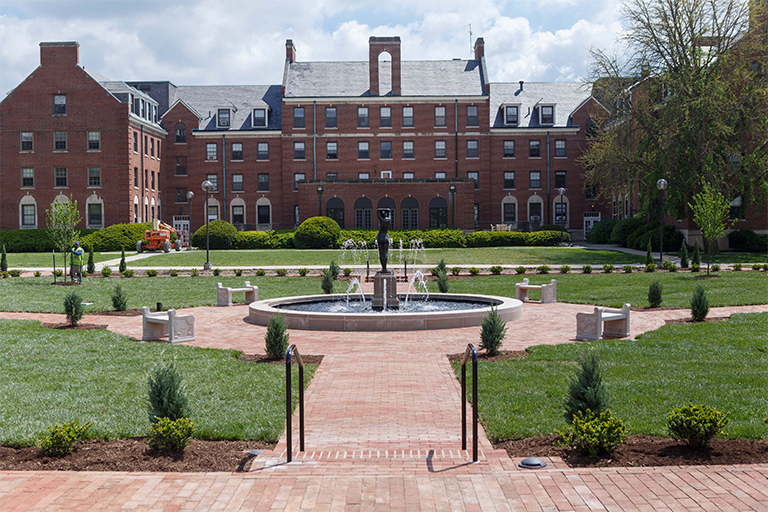 Ball Gardens
Ball Nurse's Sunken Gardens re-dedication
2018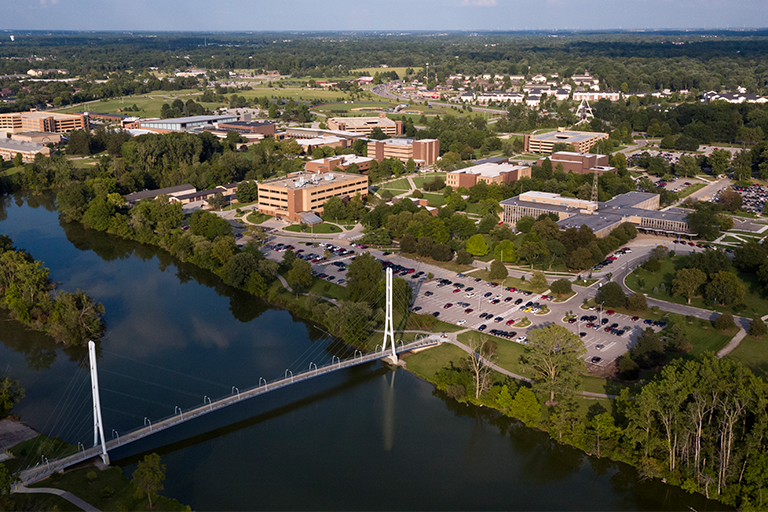 IUSON FW
Indiana University School of Nursing Fort Wayne established
2018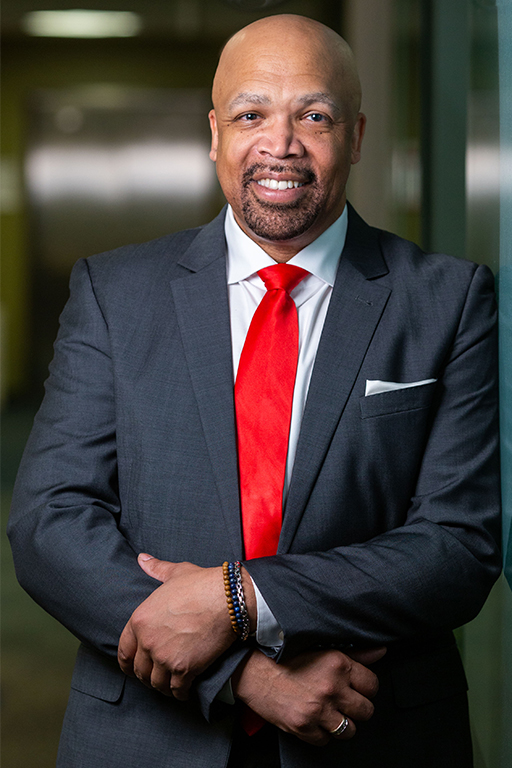 First dean of IUSON FW appointed
Chris Coleman appointed the first associate dean. July 1, 2018. Served until July 1 of 2022.
2021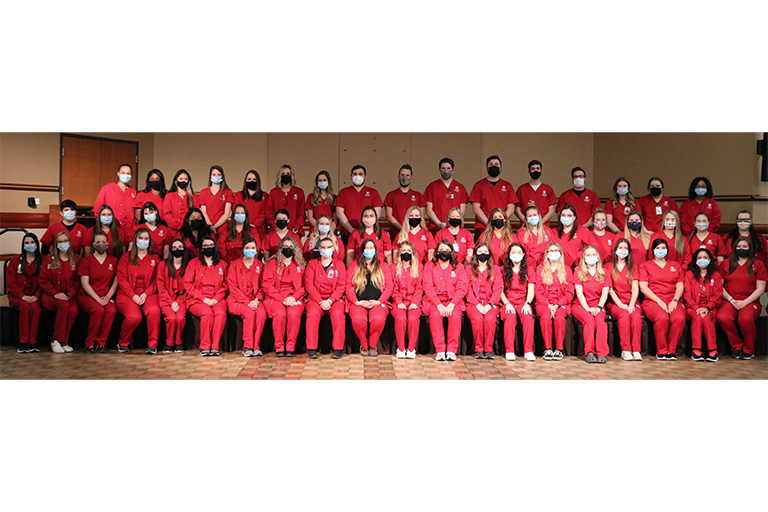 First IUSON FW grads
The Indiana University-Purdue University Fort Wayne campus was re-organized in July of 2018 and the School of Nursing was realigned from a Purdue University school to an Indiana University school. Purdue students completed their curriculum while new incoming students began with an Indiana University curriculum. The first class in the IU School of Nursing curriculum graduated in May of 2021.