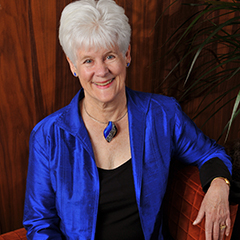 Biography
If there's one woman known at IUSON for fearlessly breaking barriers, it is Diane Billings.
The digital age had finally dawned on society full-blast in the 1990s and began altering how information was disseminated, acquired, and exchanged. The faculty at IUSON knew they had to make changes for the age of computers, and a medical-surgical nursing professor was ready to take the lead. Excited about the opportunity to be one of the first Indiana schools to embrace a new education format, Billings was no stranger to going above and beyond.
"When I was choosing a college major, women only had a few options," the Wisconsin native explained. "I ended up having three professions in one: a nurse, a teacher, and a writer."
During her career at IUSON, Billings taught in the ASN, BSN, MSN and PhD programs. She was also the BSN curriculum coordinator evaluator in the mid 80s and ended her tenure as associate dean for Teaching, Learning, and Information Resources. Despite holding a variety of positions, Billings maintains that her point of impact was implementing a plan to put a computer on the desk of all faculty and staff and developing a state-of-the-art computer center for students.
"Some in the IUSON community embraced the chance to use computers, while others were more apprehensive," Billings remembers. "In order to facilitate the transition, we set up a training program consisting of 20 hours of computer classes for faculty and staff."
Billings may have retired, but her legacy is visible all over IUSON today. One only needs to visit the simulation center and the learning lab at IUSON to see the innovate technologies to which the students now have access. She was even the force behind adding handrails to NU 103's stairwell to keep students safe. The intangible side of her legacy is that of persistence, an attribute she feels is crucial for success.
"My career was propelled by a vision I pursued," she said. "Think big and realize that change is good. Find people that have the same mission and vision as you and join forces to achieve your goal."