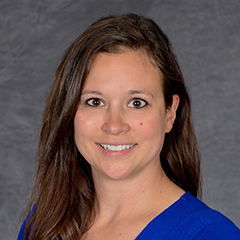 Education
MSN, Indiana Wesleyan University
MBA, Indiana Wesleyan University
BSN, Arkansas State University

Specialties and Expertise
Health Systems
Evidence-based Practice (EBP)
Healthy Systems Interventions
Nursing Leadership
Professional Role Development
Safety Culture
Managing Chronic Conditions
Community-engaged Research
Diabetes
Early Intervention
Biography
After earning her BSN from Arkansas State University, Arce began her nursing career on medical surgical and acute rehabilitation Units. While earning her MBA and MSN from Indiana Wesleyan University, she transitioned into an Orthopedic Program Coordinator role. In this role, Arce's work was focused on quality of care and patient and caregiver education. She later began a leadership position with the perioperative team. Arce's career at Indiana University School of Nursing Bloomington Campus began in 2019. Arce is also a PhD candidate in Health Behavior.
Arce enjoys relationship building, creating healthy working environments, helping others grow professionally, and instilling the passion of excellent and high quality patient care into her nursing practice. Arce's research focus is on improving preventative care within the rural community. Arce enjoys providing services to the community alongside nursing students, such as free health clinic screenings. Arce is also involved in her own local community through Agape Kids House of Lawrence County.
External Funding
November 2021. "Optimizing Community Engagement and Nursing Education through Health Screenings in Rural Communities." Center for Rural Engagement.
Publications
Kummer, A., Davis-Ajami, M., Arce, B., Hartlieb, K., Dickenson, S., Golzarri-Arroyo, L., Olcott, C., Faith, M., & Jayawardene, W. (2021). 'eatNplay'–a rurally-tailored, family-based, telehealth intervention for childhood obesity: Protocol for a mixed-methods randomized newsletter controlled pilot study. Contemporary Clinical Trials, 109.