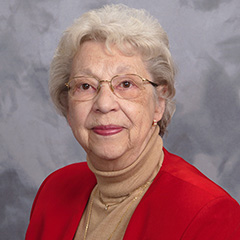 Biography
Margaret Applegate will never forget the day she had to give blood to a little boy with leukemia against his parent's wishes because of a court order.
"He should have been enjoying his last days at this point, and we were tearing his family apart," Applegate remembers. "The doctor knew the blood was not going to save him. Was this even worth it?"
Questions like this are what drew Applegate to become an expert in ethics during her career as a nurse and a professor. She requested a sabbatical and spent a year speaking to different leaders at the University of Washington. When she returned to IU, she set up courses in ethics across the programs. She was also a member of multiple ethics committees.
"Any medical professional, patient, or family member stuck in an ethical dilemma would often call the ethics committee," she explained. "One mother could not decide if she should put her son with Down syndrome through chemotherapy. We researched this issue and discovered that people with Down syndrome had an 80% success rate with chemo; much higher than she anticipated."
As a professor at the IU School of Nursing, Applegate propelled change as well. Under Juanita Laidig's leadership, she helped standardize the nursing degree throughout the IU system. The two of them modeled the new curriculum after the philosophy of the faculty members. As the assistant dean, she believes her impact can be found in the way she led the nursing faculty on each of IU's eight campuses. At that time the campuses across Indiana were united as one system school.
"I never saw my job as one to boss everyone around. My job was to find ways for us to work together in harmony despite the differing policies of each campus," she said.
Applegate deeply enjoyed each phase of her career and has favorite memories from each. She enjoyed the camaraderie the IUSON faculty shared and loved when her hospital had access to recent medical discoveries or resources.
"I have a very clear memory of children with polio in the hospital getting into the iron tanks," she said. "One night, the head physician approached me with tears running down his cheeks. 'We get our first polio vaccines tomorrow,' he said. That was a really exciting and relieving time for us."
With the rich scope of experiences Applegate has had, she wants student nurses to know how transferrable their skills are. As the field shifts to evidence-based practice to grounded research decisions, she also encourages nurses to earn their master's and doctoral degrees.
"If there is one thing I learned, it's that having an ethical grounding helps you to speak up," she said. "It also helps you guide your care practices."