The Nursing News
Summer 2021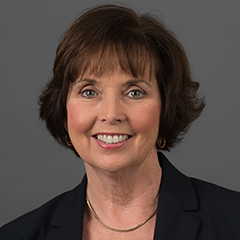 From the Interim Associate Dean
Eileen Danaher Hacker, PhD, APRN, AOCN, FAAN
Greetings!
If you are a regular reader of The Nursing News, you're used to seeing a  message from Dr. Mary Lynn Davis-Ajami. You know her best as IU School of Nursing Bloomington Associate Dean, but Dr. Davis-Ajami is also a committed nurse researcher with a special focus on the treatment of chronic disease. 
After four outstanding years leading the school, Dr. Davis-Ajami has now returned to the world of teaching and research. We thank her for her countless contributions to our school and wish her the very best as she begins this new chapter in her career. As we begin the search for a new associate dean, I will be filling in as Interim Associate Dean.
By way of introduction, I am a professor and department chair in the Science of Nursing Care at IU School of Nursing in Indianapolis. My nursing experience spans over 38 years, including 20 years in academia. My own active research portfolio focuses on oncology nursing, with an emphasis on hematopoietic stem cell transplantation, with the goal of improving quality of life for those suffering from cancer. My research has been funded by the American Cancer Society, National Cancer Institute, National Institutes of Nursing Research, and the Oncology Nursing Society, among others. I am a Fellow in the American Academy of Nursing and have completed executive management leadership fellows' programs offered by the American Association of Colleges of Nursing (AACN) and the University of Illinois at Chicago.
I am as excited as you are to read this latest edition of The Nursing News as we learn more about the many accomplishments of the exceptional women and men who make up the students, faculty, and staff of the IU School of Nursing in Bloomington. 
I invite you to join me on the journey!