The Nursing News
Winter 2020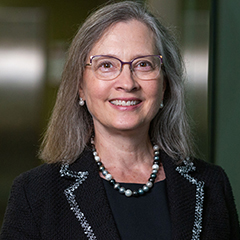 From the Associate Dean
Mary Lynn Davis-Ajami, PhD, MBA, MS, FNP-C, RN
Greetings!
To say that 2020 has been the most demanding, difficult and, yet, ultimately rewarding year in our school's young history would be a definite understatement!  As we near year's end, I want to take a look back at all we've accomplished in this most challenging year.  

In 2020, we transformed our New Student Orientation, Boot Camp, classes, and complex clinicals into virtual environments that kept our students safe, while maintaining the rigorous standards we've set for the quality of instruction we provide. We created new scholarship opportunities for our students. Took major steps in advancing the design and developing the logistics needed to move into our new Health Sciences Building in the spring. And we saw our students, faculty, and staff continue to "make waves" in the nursing profession through numerous appointments, scholarly publications and presentations, and national awards – some of which we'll tell you about in this edition of The Nursing News.

This edition of The Nursing News also profiles one of the most widely-published and widely-respected members of our faculty; provides you with an up-to-the-minute update about our move to the new Health Sciences Building; takes you behind the scenes for an inside look at the extraordinary efforts nurses at IU Health Bloomington Hospital are making in the fight against COVID-19; tells you the amazing story of a young man who made the difficult journey all the way from war-torn Afghanistan to attend our school; and details the many ways in which our student nurses have been on the frontlines in the fight against COVID-19, including assisting our university in the on-arrival testing of all IU students as they returned to campus this fall.

I have always felt that the students, faculty, staff, alumni, donors, and friends who are part of the IUSON BL family are exceptional. But it was not until 2020 that I truly appreciated just how exceptional YOU are. None of the achievements outlined above – and other initiatives and accomplishments almost too numerous to mention – would have been even remotely possible without your continued efforts and support.  

The holiday season is always a time for giving thanks, and I want to say – to each of you – how thankful I am to lead as the associate dean of the IU School of Nursing Bloomington. With your continued support, the future of our school – despite the many challenges of the past year – remains very bright.

As always, thank you for being a part of our extended IUSON BL family!